Algeria – Awlad Jalal: trainer Aisha Lazinc in an "Invitation to Think" seminar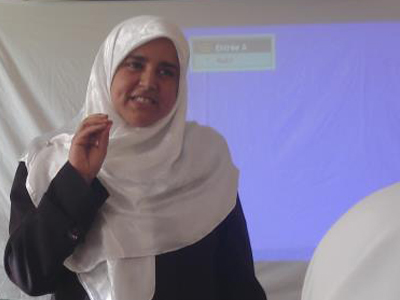 On the occasion of the new Hijri year, and sponsored by Al Ta'seel cultural association in Awlad Jalal in Biskra state on Thursday the first of Muharram 1434 Hijri which corresponds to 15 November 2012, the trainer Aicha Laznek was on date with her trainees in a special night entitled "an invitation to think."
Which opened with verses from the Holy Quran followed by a welcome speech on the occasion of the new Hijri year for the lady and Mrs. Fadila who is responsible of the society, to give way to the trainer, which began the night by special Doa'a to Palestine and Syria and all of our nation because they are one body and the borders are only restrictions placed by the enemies of our nation.
And because we are a thought nation unlike the west say. The trainer asked a lot of questions in an invitation to think under the curiosity and wonder and amazement of trainees... To start an interesting dialogue inspired from the life so it was a wonderful night by its audience because they actively participated in a distinctive and interesting dialogue.
This night was not like the rest of the other nights because the audience gave their special touch in wonderful and good perception about the universe and convictions that impede the process of investigation and achievement.
The night also included exercises performed by trainees who were happily and in high enthusiasm, and many of the stories from the life of our beloved prophet Muhammad, and our all loved prophets and their stories and life stories for scientists and great people who lead the humanity to the goodness.
The end of the night was an invitation to think that you are impressive... Active… changer… How do you think? How can you be?
Professor Wheeba comment:
We learned from you today how to improve our thoughts and how to raise them above... And how to forgive others and how to estimate the behavior, you are really wonderful. And you changed a lot of my thoughts, God reward you with good.