Morocco - Dakhla: Closure of the diploma course in NLP for trainer Mourad Jlali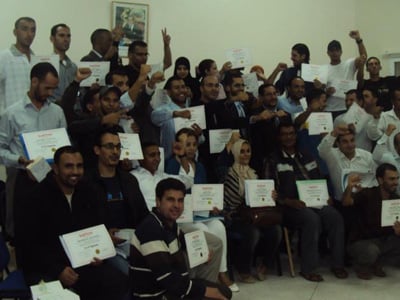 Group photo at the end of the event
After training last for several days. A group of education men in Dakhla got a diploma in NLP and self-development from British ILLAFTrain Foundation.
The democratic organization for education call the Moroccan trainer Mourad Jlali who is Certified trainer from ILLAFTrain in order to meet the needs of growing configuration for the men of education and students equally in this field that interested in self build and human personality, where it is expected that those training workshops will open a new horizons to the beneficiaries to enable them to build new perspectives for their future through the development of their performance and the development of their personalities (increase self-confidence, improve communicative relations with others, solve personal problems, the development of incentives for work and production...) and provide a range of methods and techniques to increase the speed of learning and memorization for students and prepare them for future success in the level of business and management.
It also provides new alternatives for teachers in positive interaction with their surroundings in general and their students in particular through reaching to saturation with regard to communication skills and their conviction in the prior assumptions of neuro-linguistic programming and that would change the pattern of their thinking and the course of their lives for the better.
The closing ceremony knew the attendance of the director of the academy who expressed his appreciation for this course, which gave fresh breath to whom formed in it, also he presented some gifts for the trainer Mourad Jlali in recognition for his efforts made with the teachers trainees, and with pupils of educational institutions who have received formation lectures in the field of academic excellence techniques, which will help them to reach to a new phase of self-development that will print their lives in the future.
Also the events of this course have introduced through news coverage carried out by Moroccan radio and television.