Morocco-Meknas: ILLAFTrain certified trainers have passed the colkium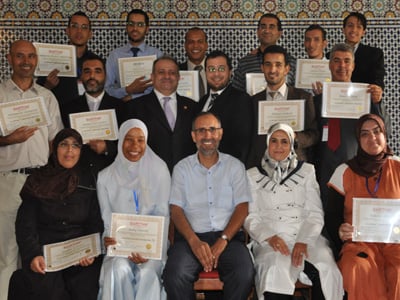 Before the beginning of the program, forty questions were prepared for the learners, these questions covered most aspects of the course, and the answers were written on colored cards.

Then, the answers were pasted to a one of the walls inside the hall, and then the start line was determined by plaster on the other side of the hall.

Then the class was divided into two teams and asked to stand into two lines before the start line.

The instructor read the questions loudly, and when he says (start), one learner of each team should run to the wall and try to find the correct answer and read it loudly, and then both learners should return to their teams.

Then, another two learners from both teams should play the same role.

The game finished when there were no more answers on the wall, and each learner played the role one time at least. The team who collected more correct answers was the winner one.
Photos Gallery: "Meknes 2011 – Revision Race Exercise".

Meknas Monopoly:
This game depends on a dice stone and a group of stations distributed in a form of square. The stations contain questions that differ in difficulty; the learner should stands on the start line and throw the dice stone to pass a specific number of stations depending on the value of the dice stone, then stop at each question and answer the question to be able to continue, and so till he finish all of the stations.
Photos Gallery: "Meknes 2011 – The Monopoly".

Action, Action, Action:
Course activities were distinguished by continuous movement of the learners; the trainers rarely sit in their seats. So that any visitor of the classroom can clearly note the signs of fun and action on their faces.
Photos Gallery: "Meknes 2011 – Move, Move, Move".
Dr Mohammad Ghayath Al Maktabi from Syria had participated in many training sessions and the most important session was his last participation about ego danger in training and the importance of cooperation and its useful results. It is worthy to mention that Dr Almaktabi has been awarded the "knight insignia" from the first class after completion the tests and exercises required to obtain the rank of "IllafTrain Expert Trainer"
Instructor Malikah Altabhery also participated in many special activities such as arts of speech and specially debating and introductory speech including its origins. And she has obtained the rank of first trainer in IllafTrain after the completion of the tests and the exercises required for this degree.
Meknas course has been honored by hosting the distinguished instructor Abdelwahab Bo Jamal who participated in launching the course and decorated it with many of his wonderful shows.
Many thanks and appreciations to Dr Ibrahim Tloy and his wife Miss Rasheeda Baderkhan.