Qatar - Al Doha: An interview on al-Arab Newspaper with Trainer Mohammed Pedra on the margin of trainer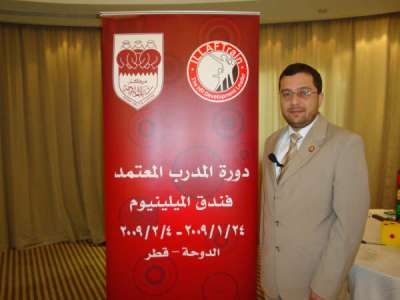 Training work shop, the first of its kind, held in Qatar for 12 days, was supervised by trainer Mohammed Pedra. Scores of trainees who are going to take the training task in future in Qatar joined the workshop. This process will be carried out at Qatar Trainers' Club established yesterday by Doha Youth Center as a start for Qatar training market.
Osama al Agha, an al -Arab Newspaper's correspondent interviewed architect Mohammed Pedra:
First, why have you chosen the training task though you are an architect? Is their any relationship between your specialty as an engineer and the work you are undertaking now?
- In fact, my office is still working. I am practicing both training and architecture. From the very beginning and for years when I used to join courses to improve my business, I felt that something has been attracting my attention and leading me to training process. For me it is a great satisfaction to find out a great deal of improvement in the work of a lot of important people. What is common among my study, my specialty and my training? I think that there is an interconnection among all kinds of science. In fact, architecture has been a useful means for me in training. It helps me in everything- from workshop, delivery, academic subjects to even the engineering of human.
How can a trainee polish his abilities in this domain if he/she is to undertake such a task? Are there any important steps you might advise trainees who are keen to achieve a global success in this field?
Once the trainer has got the scientific background and at the same time the required skills for training practice, I believe, humility towards science and scholars is a helpful tool for him. There is another measure that should be taken such as the assessment process. The trainer has to evaluate him/her self after each training program and after each lecture. H/she has to find out the negative features related to the job in order to improve them. Whenever a trainer is unable to find a weak characteristic, he should stop and withdraw from the battle field because we are all human beings and to err is a human.
Is there any difference between training trainers and training ordinary trainees?
Indeed whenever I give a hand during training workshops, I undergo a feeling of challenge where I have to face trainees for 12 days, 10 hours a day aiming at giving them the needed knowledge and required skills. At the end of each course, an impression of being proud of what has been achieved dominates all participants including me. Concerning the participants, they are so much similar to all trainees.
What is the effect of training in the Arab World? How do people feel towards this pattern of teaching? Does it cover all fields of life or just the market's requirement?
The influence of training process differs in the Arab World from one country to another according to its material resources and the culture of training it has got. In fact, the culture of training is still weak in most Arab countries except those in the Gulf region. Thanks God, this culture of training has been disseminating through most of the Arab World. Its effect, however, is still weak. Unfortunately, it covers only the markets' demand which still do not strongly believe in training process.
Does your training process focus on education and teaching?
I am sorry to say that education in the Arab World is still suffering from a lot of problems and still faraway from many modern systems. You learn that there are efforts being exerted here and there but in reality you are unable to figure out the outcome. The level of education is crystallized evidence reflects the society itself. The Arab World suffers from illiteracy in a very big percentage worldwide according to the recently issued surveys. You can imagine the level of training once you realize the level of education. We should focus on education within our training process.
Would you like to briefly advise trainers both in educational institutions and in companies?
They have to pay great attention to their human resources and do research into this issue. They also have to establish either departments or designate experts in training and developing into the human resources management and administration. Human capital is always considered to be one of the most important investments for any organization or company to undertake. A manager ignoring this resource is definitely going to bring his organization a great loss.
One of the issues you have concentrated on during the workshop was the accelerated learning. What are its main principles?
It is based on many principles .One of them is that it should be in harmony with the way the human brain works which involves the effective learning, the linear logical thinking of the left side of the brain as well as the comprehensive creative thinking of the right side. The brain in not a linear processor; it is rather a multi paths one. It keeps on developing whenever it is put under a challenge to do different things simultaneously.
The second principle is that the learning process should improve when it is carried out in a variety of approaches. Each one has a certain style of receiving and processing information, so we have to provide a learner with various kinds of rich knowledge in order to benefit the most.
On the third level, a successful learning is in line with the principles of memory. The brain is more capable of processing images than words as images, especially colorful ones. They are easier to remember than words. The brain always recalls things that are different and exclusive; and those are found in connection with each other. Simple and boring things are quickly forgotten.
Then a learner should be completely occupied in order to capitalize on the learning process because learning is the process of creating knowledge by the learner himself rather than consuming it. Knowledge, sense and values are not to be absorbed by learner; he should create them inside his brain. A true learning must be received by the entire body, entire reason and it occupies the learner emotionally, physically and mentally.
The fifth principle focuses on teaching the learner what he wishes to be taught .There is no learning without the existence of a personal purpose of the learner since he needs to be sure that it will be useful for career. Learning strongly grows when the academic information is related to its context in harmony with reality. It must bring a sense of safety and expectation of success. Laugh and joy are important prerequisites for successful learning.
Finally, the seventh principle is that learning is an experience and a social expertise, so cooperation accelerates learning and competition slows it. Therefore, replacing isolation by learning community decreases stress and increases learning. It is often more useful to learn from inmate than from any other source. Successful tutors and trainers are more interested in building positive relationships among students more than in any other means.
What is your impression about the framework of this work shop as it is the first to be held in Qatar?
This is my fifth visit to Qatar. I have participated in founding Execration International in Qatar. Two years ago, I have drawn a framework for a workshop. Thanks God, I am closely acquainted to Qatari society. What I can say is that Qatar is undergoing an amazing process of development in all domains and the success of our workshop is a clear evidence of that progress.
Related News:
Qatar - Doha: ILLAFTrain Certified Trainer Course Conclusion
Qatar- Doha: ILLAFTrain Certified Trainer Course continues at Millennium Hotel with Dr. Mohammed al-Toayny
Qatar – Doha: The launching of ICT at Millennium Hotel under the sponsorship of "Doha Youth" for the first time
Gallaries:
The continuation of ICT at Millennium Hotel

Qatar – Doha: Training course conclusion

Qatar- Doha: Some of the Training Workshop Exercises