Qatar – Doha: Closure of the Delivery Art course for trainer Hamza Al Aldosari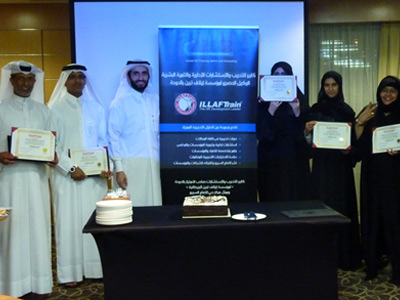 Group photo at the end of the event
Finally I can stand in front of people, actually my self-confidence has increased, with such meanings the long Delivery Art course for Trainer Hamza Aldosari on September 23 for five days and with the participation of 10 trainees and organized by ILLAFTrain - Doha has been ended, where the course start on the first day by identifying the trainees so that each trainee standing in front of the whole and defines himself and will be asked some questions in order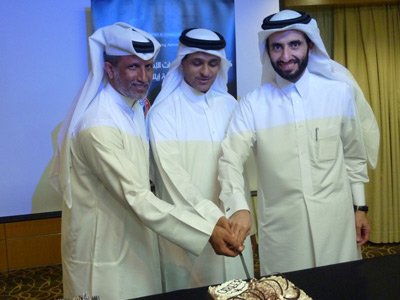 The course began by talking about presentation and its importance and benefits, and how trainee can win confidence to himself, the approach of the course was to give all trainees chance to present their presentations in front of his colleagues and to receive feedback. And thanks to God that trainees were able to provide at least six presentations in front of their colleagues. Each time progress was remarkable and different from the previous with testimony of participants themselves.
The course talked about methods of preparing the subject including its introduction and board and a conclusion as well as means of attracting attention and the importance of audience knowledge and its impact on the presentation, and the importance of the use of voice skill and body and how to apply them, what is worth to mention is that the trainees lived in an atmosphere as if they were one family of intimacy and cooperation and each one of them urging the other to compete and progress, and at the end of the course the comments were:
Zainab Ali Khashan, additional instructional support coordinator:
I was very happy in my presence with Mr. Hamza Aldosari and I hope to have the opportunity to learn some of his information sea in other courses. I would advise everyone to go to such experience which is full of challenge and excitement and some of the characteristics of the course were: the presence of intimacy and a sense of humor between the trainer and trainees, I have developed myself and increased my self-confidence, as well as it giving you a chance to express an opinion freely of. God is the source of strength.
Kaltham Kaabi, an engineer, Qatar Petroleum:
It was very useful course and changed me a lot, I learned how to present and speak comfortably in front of the audience and everything was arranged and prepared to the fullest. God give you wellness.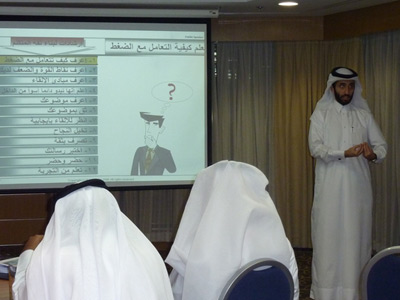 Salma Al-Hajri, Coordinator, Department of Curriculum and educational services, Al Noor Institute for the Blinders:
The word excellent course is few actually but it is interesting, stimulating, fruitful and enjoyable course and I advanced in this course a bit much as it gave me self-confidence and enthusiasm and the ability to show my capabilities in the presentation to the audience, more training and exercise will be enough to change us for the better and better and to the ambition for excellence by our special style which we wish to be fingerprint for others.
Aisha Musa, the Museum of Islamic Art:
A wonderful course, fully effectible, not only in the how to present, but in other things as how to deal with others, sound method of gait, the way for constructive criticism.
I lived an enthusiasm and very constructive atmosphere, how many times I wanted to get out of the room because I believe that exercise is difficult but by trainer stimulating and encouraging I reached the stage I did not expect that I can, a course that has a "magician" effect in the best positive change.