Syria - Damascus: NLP Bazaar is a new feature for the NLP diploma course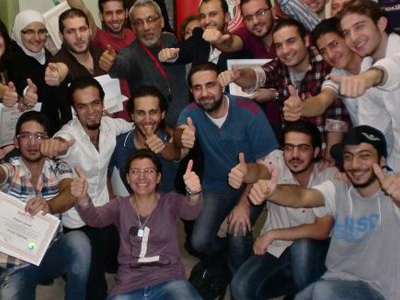 NLP Bazaar is a new feature for the NLP diploma course provided by advanced trainer M.azzam alkasim within the activities of free training and qualifying campaign for one million young Syrian in Al Sham center of training and development in Damascus.
The course began by distributing trainees to groups with different goods, and a single group trying to get the goods for answering questions about analog systems and others from the NLP axes.
Over the days of the course the course axes have installed through a representative situations and multiple practical exercises during which the participated trainees expressed what they had received from the different information and skills within the course.
The final test was using a Monopoly game where trainees are distributed into three groups played in parallel and continued the game for a long time, and the equalization was master of the situation until the case broken by the game of tug of war between the two remaining groups.
After that the trainer M.azzam alkasim concluded the course and certificates were distributed.