Algeria, Constantine: "the Making of Creative Child" course by trainer Fattahi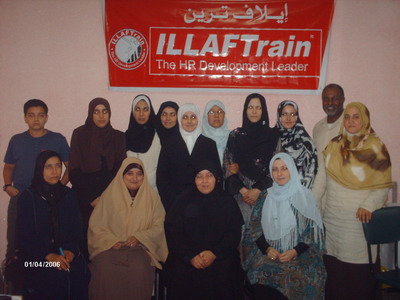 Trainer Duha Fattahi during the course
Seeking for the best in presenting the most important, distinctive topics on daily life, trainer Duha Fattahi presented one of her newest ILLAFTrain certified courses; "the Making of the Creative Child", under the invitation of Constantine franchise; it started on the second of July and lasted for two days.
The course was distinguished by family parental attendance. Trainer Duha Fattahi talked about issues related to thinking and its types, creativity and intelligence; she also talked about the motivations of creativity and its components, stages and obstacles.
One of The main issues of the course was how to deal with a creative child and types of positive education which support creativity; another was how to develop the main skills of creative thinking according to studied methods, as well as various exercises and techniques that revealed the tendency and talents of the child , the best ways to crystallize and reveal these talents, and then how to develop them.
At first, the exercises and their applications were challenging for the audience, but they interacted with them in order to be able, later, to apply them on their own children.