Algeria-Constantine: "Thinking Muscles" by trainer Samir Kohil in Setif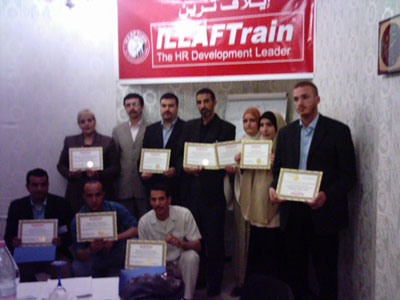 Group photo of the trainees and the trainer
Trainer Samir Kohil presented a unique course called "Thinking Muscles, improving comprehension skills", in Setif. This course comes on the distinctive training schedule of ILLAFTrain- Constantine.
Starting on the fourth of June, 2008, the two days course involved a variety of attendees, from businesspeople, doctors, and trainers, to activists and administrative officers in organizations, to many others.
On the first day, Trainer Samir Kohil focused on the importance of comprehending the general concept of the subject and its significance for individuals with different professional and social circumstances. The trainer succeed by making the trainees sense the importance of the subject and that's shown in their performances and interactions during the whole course. He talked about the first three muscles on the first day.
On the second day, he completed the seven muscles left, where the trainees figured out how to connect between them and how to use them in various situations. Where they can handle the problems and the situations of life objectively, and see them through wider perspective by using these ten muscles they took in the course.
The course was closed by listening to the trainees' impressions. Then distributing the certificates. All trainees agreed that the course was exceptional in their training experience.