Algeria- the capital: a course of "How to memorize the Holy Koran in a Short Time?" By trainer Duha Fattahi.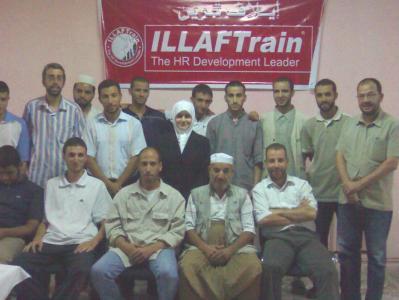 A group photo with the trainer Duha Fattahi.
A course of "how to memorize the Holy Koran in a short time" was held in Algeria-the capital, on the 6th of July by trainer Duha Fattahi and that's by the organization of Constantine franchise. She presented a unique course of how to invest mental abilities, improve the memory, and how to use it in memorizing the Holy Koran in a short time. First, she delivered an introduction talking about the merit of Koran and its holder and some of the Koran memorizers.
She corrected the passive ideas that discourage people and prevent them from memorizing The Holy Koran and how to replace them with positive ones. Then she explained the most important techniques which help them to improve memorizing and impress permanently, and she helped trainees setting a perfect plan for memorizing, then the methods of effective repetition.
Trainees of different ages and education attended the course; they interacted with the trainer's unique presentation and the applicable exercises. At the end of the course, they were content with what they've gained of techniques that changed their perspective towards memorizing in general and memorizing the Holy Koran in particular.