Algeria-the Capital: Sales art and negotiation skills courses by trainer Basel Alnassar in Algeria the capital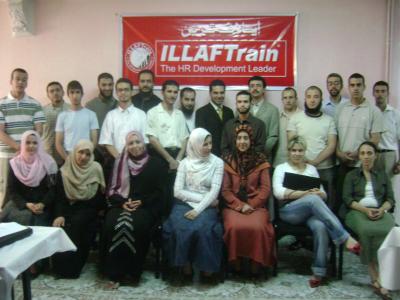 A group photo with trainer Basel Alnassar.
From the 21st till the 24th of June, and within the activities of Constantine franchise, trainer Basel Alnassar presented two unique courses of Sales Art and Negotiation Skills in Algeria-the Capital.
During the morning period, the trainer took his trainees to the Sales domain; he gave a spectacular presentation telling them about the features of a good salesman and about essential skills. That motivated a lot of the trainees to interact with his presentation and with the practical exercises in particular.
During the evening period, the activities of negotiation skills course were presented by trainer Basel Alnassar. He talked about the techniques of effective negotiation, and its morality. He also mentioned the immoral techniques which should be avoided, and being careful if it's used by others. The practical exercises were good and reflected trainees' interaction.
Some of the trainees' comments:
Trainee Turky Hafezah:
Sales Art course was at the top of all levels, great training style and organization besides 100% benefits in personal and practical life.
Trainee Zehar Saleem:
the course meets the need of lurkers and offers them deep-vision, skills, and new techniques in Sales by raising personal Capacity.
Trainee Mohammad Walid:
Negotiation Skill is a very important course and its effects appear on the personal level. The trainer performance was great.
Trainer Serhany Mohammad:
great atmosphere and viewing unexpected angles for negotiations. The trainer's performance was distinctive.