Algeria - the Capital: "Thinking Muscles" Course by the Trainer Samir Kohil.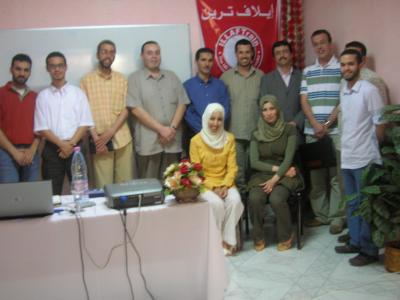 On the first day, the trainer talked about the importance of a wider comprehension of the situations, having a total and profound vision, and having an objective perspective concerning any situation. Focusing on the "Other" not the "I", He accentuated the importance of determining the objectives and the sound planning to be able to take the right decisions and to establish well-organized bases for all directions of life. These issues were discussed while dealing with the first four muscles-Improvement of comprehension level.
On the second day, he completed the six muscles left; trainees figured out how to connect between them and how to use them in different situations in order to be able to handle problems and life situations objectively, and see them from a wider perspective. The course was completed by listening to trainees' good impressions expressing their longing for completing all Thinking Muscles courses.
Trainer Bona'as nabeelah:
I have got use of this course because the content was extremely important. Besides, trainer Samir Kohil's way of lecturing was a distinctive one.
Mr. shnaitay Ahmad:
All people think, but seldom their way of thinking is built on right bases. This course taught me to think in a different way, to see things from different angles, and to take decisions built on right bases.
Mr. khoas Ali:
It is hard to believe that there is thinking skills, but when you attend the course you'll find out the importance of these skills. I've got the chance to attend it, and I've got use whether from the trainer's experience or from the attendances'. So I encourage all to attend it or even get its material.
Mr. Farhi Walid:
This course was beneficial; I gained many thinking skills that helped me with clarifying my ideas and organizing them. It helped me get the best way of determining my objectives.