Khartoum; Sudan: for the first time, NLP Diploma by using Accelerated Learning Techniques at ILLAFTrain-Khartoum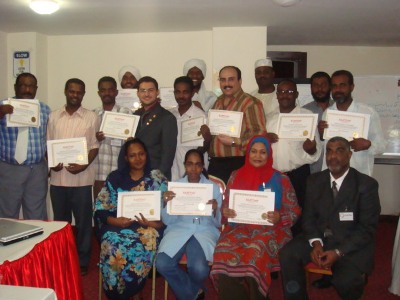 On Friday, the 18th of July, at the center of ILLAFTrain-Khartoum, a course of NLP diploma was completed by trainer Tony Peter - the main trainer, trainer Abdel Moniem Alomairi who added something special to the course by applying Accelerated Learning techniques. It was the first training course in Sudan to which the Accelerated Learning techniques have been applied.
This course was distinctive for the quality of the trainees who attended such as; psychologists, doctors, jurists, marketing managers, administrative, and some women. This variety reflected the richness of the course useful discussions, participations, and the comparison between NLP as a science and psychology.
As to Accelerated Learning techniques, it added fun and entertainment on the course, where colorful sheets containing important parts of the course material, had been put on the walls of the training hall, and a colorful plan containing NLP hypothesis was designed by the trainees, music had been used in the course as well. Many contests and competitions had been done among the trainees where fake money paper was distributed and spent at the course market. Inside the training hall, there was a soccer competition between trainer Tony Peter and psychologist Abdurrahman Ahmad Othman, ended in trainer tony peter's defeat and the professor wined 100 dollar. Fun and entertainment added intimacy to the atmosphere of the course. Trainees pledged to continue the upcoming courses of NLP.
Some of the trainee's comments:
Trainee Abdurrahman Ahmad Othman - psychologist:
how wonderful the idea of ILLAFTrain and exploring it is.
Trainee Assem Mohammad - supervisor at Almontada organization:
the best of the course was the high capability of the trainers and the use of Accelerated Learning techniques. It's the first course which materials I've real and totally comprehended it. It was the first course through which I've achieved all my goals and sensed the change before the course was over. Trainers excelled in the course, presenting it with great devotion. The depth of the concepts is deeply-rooted inside me and it has improved my perspective towards all aspects of life.
Trainee Entisar Kamaleddin: trainers have great capabilities to deliver information. I invite all to success journey led by ILLAFTrain.
Trainee Naseer Maiser – research assistant at the Arab organization for agricultural Investment and development:
the intimate atmosphere, the good relationship between the trainers and the trainees, and the simplified information were the most beautiful things in the course. Its well worth attending because we've got the essence of NLP.I would like to express my thanks and appreciation to all the employees.
Trainee Altayyeb Solaiman:
the total harmony and coexistence between the trainers and the trainees is what attracted me most. This course was so impressive as well as trainers Tony Peter and Abdel Moniem Alomairi. I was amazed because I had a lot of problems solved during the course.