Morocco - Aljadeida: on the Atlantic shores, a course of NLP was presented by trainer Alkhateeb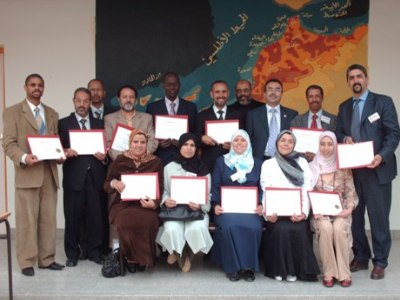 Under the invitation of ILLAFTrain-Rabat, trainer Ahmad Naser Alkhateeb, for the time, came to Morocco to train a practitioner course of NLP in Aljadeida which is located about 130 km from Rabat-the capital. It's known for its beautiful Portuguese ruins.
The course was from the 1st till the 5th of May. 14 trainees representing various sectors of doctors, engineers, and professors have got use of this course. This course had been through a serious and beneficial atmosphere, where the trainer succeeded in delivering a set of techniques and skills. Trainees' response was great and distinctive.
Within the course, there was a trip to the Portuguese ruins in the city. The participants liked that, especially most of them have never been to that place before. The most important places visited were: the fence, the Portuguese citadel, the water reservoir, the irrigation tool (which is one of the most wonderful geometric forms at that time), and the old market for jewelry and antiques.