Morocco – Rabat: An interview with Mr. Ibrahim Talwa at the end of ILLAFTrain Certified Trainer Course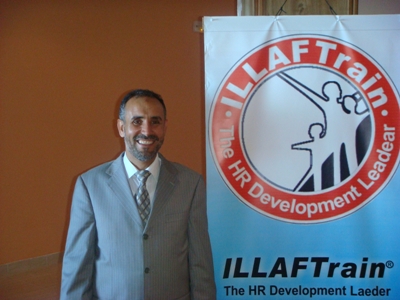 Mr. Talwa Talked with ILLAFTrain-Rabat, about ILLAFTrain Certified Trainer Course which took place in Tangiers, Morocco June 25 - Jul 3.
Q: Could you please talk to us about the Certified Training Course which you organized in Tangiers?
A: First of all I would like to congratulate you on this Holy Month. Actually as Franchisee ILLAFTrain Morocco – we started ILLAFTrain Certified Trainer course in Tangiers in an area that overlooks the borders of Spain which is called TARIFA. The course was attended by Morocco brightest in their fields.
Those Participants are of diverse interests and came from different sectors and specialties. But the common factor between them was the desire to enter the Training field as Professionals, simply because the Moroccan market is still new and at the footsteps of this field.
Q: In your opinion, what make this course stands out?
A: 1) It is the first of its kind in Morocco. This gives us the edge to be distinguished as pioneers in this field. Also, the certified graduates will the foundation on which our future work will be built.
2) Participants were already very promising Trainers in their line of work.
3) The framework and the structure of this course were planned by a well renowned Trainer who is known for his dedication and commitment to his work. The Architectural engineer Mr. Mohammed Pedra.
Q: Were there any activities outside of the Training Course?
A: Yes. We planned for the Trainers to take a tour of the city where the course was given. This city is well known for its diverse climate (Coastal line and Mountain areas). Also they visited the Old city as well as the new one. Additionally, we hosted a dinner party during which a very valuable and interesting discussion took place about Training and its prospects in Morocco. Moreover, a recommendation to designate an annual National Day for Training and Trainers to promote and market this industry to all institutions and organizations in Morocco was agreed upon.
Q: What are your future plans after this Course?
A: Tangiers course was the corner stone in our strategy as a Franchisee. Now we have a respectable base on Moroccan Trainers whom we intend to promote. We will plan a series of follow up steps to market their skills and capabilities. The early results of this Course can be noticed through the Trainers selection of their specialties. Some of them even suggested courses of their own production.
Finally, on my behalf and on behalf of all the participants in Tangiers course, It gives me great pleasure to extended my thanks and gratitude to all of those who contributed to the success of this Course.
I would like to especially thank Mr. Mohammed Pedra and our colleagues in the Central administration in ILLAFTrain Mr. Mohammed Taha and Mr. Alaa Manla Ahmad and everyone else in the team.
I would like also to tell everyone that we are looking forward to our second Training Course in Meknes in March of next Year.