Morocco – Tangiers: The first Training course for ILLAFTrain Certified Trainer in Morocco is held in Tangiers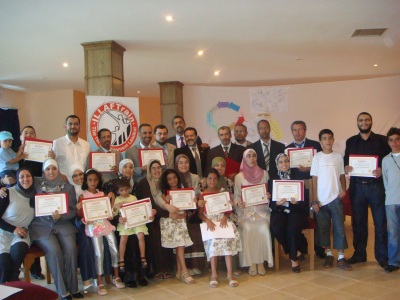 Within a line of sight from the borders of Spain, Tangiers hosted the first course of its kind in the Kingdom of Morocco to graduate Certified Trainers by ILLAFTrain in ILLAFTrain Certified Trainer Course from June 25th - July 3rd in TARIFA Hotel in Northern Morocco.
This Course was under the supervision of Arch. Mohammed Pedra from Syria as Chief Trainer who was assisted by Certified Trainers from Morocco (Dr. Loutfi El Hadari, Trainer Ibrahim Talwa and Trainer Abdul Wahab Boujamal).
15 trainees of multi nationalities and backgrounds attended and benefited from the course and enjoyed the hot summer and the great beaches of Morocco.
The Course was structured according to International standards and aimed at graduating professional Trainers capable of implementing their presentation and communication skills. In addition, Trainers gained the basic knowledge and skills of delivering a speech. Trainers were introduced also to the latest approaches and theories in the field of training and its applications. Trainers learned how to plan and structure training courses and other goals and skills. This course emphasized on the scientific part as well as the application skills of the trainers.
Trainers have taken a tour in Tangiers and enjoyed visiting some of the historical sites surrounding the city like Hercules Cave which is considered to be one of the ancient human and historical sites in the city. They also visited the local bazaars and the old city.
Since the course took place during the fabulous summer of Tangiers, Trainers were invited to a discussion dinner about "Training and Trainees…Basic questions and professionalism prospects"
It was a heated debate about the concept of training as a profession and the obstacles that faces this field and how to eliminate it. It also was an excellent opportunity to get to know ILLAFTrain in depth.
The most important recommendation of this forum was to organize the first conference in the Kingdom of Morocco specialized in Training and Trainees to be an annual event in which local and foreign expertise gathers to exchange experiences on how to improve and develop Training as a profession.