Qatar - Doha: Closure of the management correspondence skills for trainer Hisham Zaki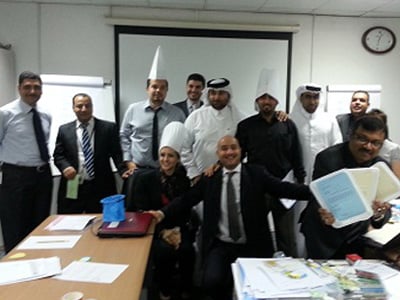 From the overall climates
Trainer Hisham Zaki Presented Business writing skills course course for a wide range of employees and staff of the National Bank from the following departments: internal audition, branches, investment, auditors, treasury, partitions and sales branches, and the course was of the most enjoyable courses that rely on activities, events and Accelerated Learning where the trainees have trained on:How to use positive words and get rid of the negative words.
Use of the latest techniques in writing letters either by institution name or internal e-mail or memo
.
How to use simple words and short, according to the law "Make it simple and easy
."
How to access the message to the nearest point of the receiver by the principle purpose of the letter, which helps in easy answer and response
.
Using the principle of 20% leads to 80%, which easily reach the reader to the purpose of the message
.
Address configuration according to ABC law, which contains a precision and expression of the message, which makes the reader understand the message just by reading the title
.
The use of modern methods in the follow-up reply to e-mail without the inconvenience reader which further consolidates the relationship between staff and each other and at the administrative level
.
Configure a complete form about the letter reader which leads to the effectiveness and fitness of letter words and the job of the message reader
.
Use appropriate means to deliver the message you write whether through a documents on behalf of the institution or e-mail or Telephone is enough for the purpose of the message
.
And through fish and bait exercise, trainees trained on the use of modern words instead of the words of the old-style, through the cards switching exercise the trainees trained on:
Using the method of make the people in the picture and not just information

.

Using positive method instead of the passive method

.
Through access to the reader exercise, trainees trained on how to formulate the message from the point of view of the reader and not the point of view of the author.
With regard to The restaurant and the waiter exercise, trainees trained through it on the formation of the elements of the official letter in the correct way and correct order:
Signal

.

History

.

Private Label and conditional

.

The recipient of the message

.

Appropriate greeting

.

Address and when it should be on the side of the message and when it should be in the centre of the message

.

Use of signing information properly

.

Attachments

.

Copying and those who it should be sent to and write the names of the recipients

.
And on the last day of the course the trainees individually presented a distinctive show included what everyone has learned from the course and the extent to which this course serves the work effectively and properly, which increases the level of performance of the institution as a modern and sophisticated structure.