Qatar - Doha: ILLAFTrain Certified Trainer Course Conclusion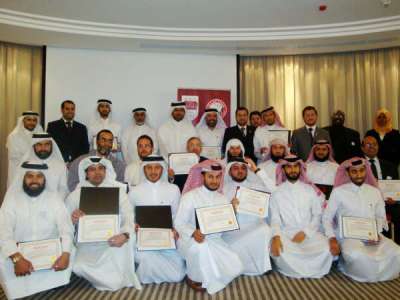 On Wednesday afternoon, at Millennium Hotel, the ICT was concluded, sponsored by the public administration of the Youth related issues. The course began 12 days ago, 10 hours a day, under the supervision of trainers: Mohammed Pedra, Tony Peter and Hussein Habib.
The event started with an introductory speech delivered by Hassan Adjaj, the presenter ,who welcomed the guests: Ahmad Youssef Al- Mulla, Abdul Allah Jassem Al-Zubarah, Ali Fahad Al- Buainayn and Nasser Ibrahim Bu Hundy. that was followed by reciting of some signs of the Holy Koran.
The following speaker was Mr. Ahmad Youssef Al-Mulla, the general secretary at Doha Youth Center, of Youth Issues Public Administration. He expressed his gratitude to trainers and all participants for their exerted efforts, and for their smiling faces while waiting for their licenses of merit and graduation from Illaftrain Institution for training purposes after more than a hundred-hour training ,taking into consideration the successful practical and theoretical tests.
Mr. Ahmad added that the high course has achieved a great success regarding the level of participation and the course outcome. Al- Mulla declared the establishment of a training club at Doha Youth Center with the aim of realizing the process of communication and making use of the successful results and merit as well as going on with developing process and achieving the intended goals.
Hassan Habib, a trainer assistant and a supervisor of developing and training department at Doha Youth Center, delivered a speech in which he explained the great success that was achieved during the course.
He said that the course was like a dream which has come true due to the great efforts exerted by the organizers of the course trying to make it a complete success.
The course was accomplished for the first time in Qatar. However, it is hoped that such courses will be carried out in future under the supervision of Doha Youth Center. The aim of these activities is to push forward the training process and achieve the desired purposes. Habib expressed his gratitude to Mohammed Pedra and Tony Peter for all their efforts , to all participants who made his course a success due to their patience , cooperative attitude and their desire for development.
Mrs. Mona al –Sa'di,, one of the participants , expressed her gratitude saying " First of all, I'd like to thank Doha Youth Center and Illaftrain for giving us this distinguished and amazing course. Special thanks to the marked trainer Mr. Mohammed Pedra for his unlimited spontaneous approach in dealing with other people. This methodology has created a cooperative team with a substantial power ready to be employed in society."
She also thanked and appreciated Professor Tony Peter, Hussein Habib and Ilham for their permanent support. It was really a fruitful course from which all people will benefit.
Mr. Ahmad Muthana , a participant, has focused in his speech on the importance of the consistent training, development and communication to exchange experience.
Muhammad Ghalib al-Hamiry has delivered a sweet rhyme in which he expressed his thanks to trainers. The rhyme includes the concepts of love, brotherhood and tolerance that dominated the course.
The Rhyme
Goodness, enlightenment paradise and basil
Gratitude, merit may be given to my sisters and brothers
Illaftrain course has got a pioneer learning
Your image wherever I go is alive I swear
Let's hail Pedra our dear professor
My love to you dominates my mind
Let's hail Tony the brave pioneer
Thanks Tony once and forever
By Lord let's hail Ilham bint Alnour
O brother Hussein you're brave I swear
Where are our times we spent together
Vanished all of the sudden happily we spent
Crying over my love ones tears shed on my face
By Lord Friends we never forget our times
On behalf of all participants of the course, Mr. Abdul Rahman al- Harmy has distributed souvenirs to trainers as symbols of great gratitude and appreciation.
The graduates are:
Abdul llah Salem al Bakry, Muhammad Ghaleb al Hamiry, Ahmmad Abd Allah Muthana, Amaar Muhammad Khaled, Anoar Rushdy Hujazy, Raffic Wafni Abu Hammam, Osama Josser al Agha, Raed Hassan al Dahaby, Al Sayad Ibrahim Atayah,Muhmoud Hassan al Damenhoury, Khalid Ali Miqdad, Ahmad Youssef al Maliky,Ahmad Nasser al Balm, Abdullah Muthana Ali al Barah, Abdul al Ruhman al Sayad Ibrahim, Muhammad Hussein al Anzy, Abdul Ruhman Khalid al Hurmy, Muhammad Hayadar al Hayadar, Khalid al Mohandy, Ala' Nasser, Wadha Ali al Hadfa, Widad Nasser al Mousa, Layla Muhammad Darweesh, Dr. Layla al Qahtany, Mona al Saady, Shaykha Abdullah Rabeea, and Nour Saleh Awad al Qorny.
Mohammed Pedra, an international trainer, affirmed that most of the trainees have embarked the training process from the very beginning till the end. He expressed his true happiness while recalling the teaching rounds when the trainees were in their high spirit and intense interaction.
He added that all participants were clearly committed to religion. Their main purpose throughout the discussion, competition and training speeches was all about religion.
Pedra believes that participants have religious, educational and learning goals by attending this course. These goals will serve understanding religion and education in general.
he said that it is the first time ever all participants pass both practical and theoretical tests with a great success in such a course.
Mrs.Wadha Ali al Hadfa ,working at Omar bin al Khattab Mosque compound, said that she had benefited a great deal from this course especially in what is related to self-confidence and speech delivery. she has called for the training and developing department at Doha Youth Center to increase the number of such a course, and that there should be a continual communication between the course graduates and the future trainers' club.
Professor Riyad Hassan al Zahaby, the academic manager at Hamzah bin Abdul Mutaleb school, said that the course is a distinguished, successful and active one; the trainers have got a high level of professionalism and activeness. He added that he capitalized on this course especially when it comes to the previous training mistakes after getting a lot of information about design and training systems as well as the educational methodologies and focusing on the trainees' needs.
It is known that the course has given special importance to applied practice which enabled the trainees to become professional, with high standard theoretical, practical and performing knowledge.
The course has achieved teaching the trainees the most prominent theories of learning related to training process and its application, the knowledge of training systems design, designing training programs, the knowledge of the basics of speech delivery and its skills, as well as its application, and the application of trainers' marketing theory.
The trainers have also benefited from employing the effective communication skills to attract the trainees' attention in order to achieve learning purposes.
Related News:
Qatar- Doha: ILLAFTrain Certified Trainer Course continues at Millennium Hotel with Dr. Mohammed al-Toayny
Qatar- Al Doha: An interview on al-Arab Newspaper with Trainer Mohammed Pedra on the margin of trainer's workshop
Qatar – Doha: The launching of ICT at Millennium Hotel under the sponsorship of "Doha Youth" for the first time
Gallaries:
The continuation of ICT at Millennium Hotel

Qatar – Doha: Training course conclusion

Qatar- Doha: Some of the Training Workshop Exercises