Syria - Lattakia: the trainers whispers on the shores of Lattakia coast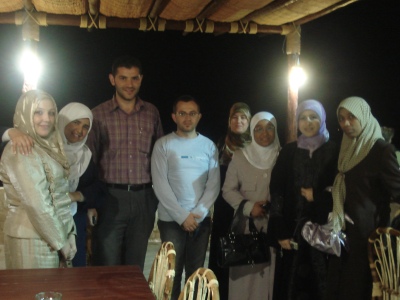 Syrian and Algerian trainers in a meeting on Lattakia shore
Beside the sea breeze which attracts you to stay awake, under the sparkling night stars whose silence makes you feel peace, along with the low wave rumbling through the tranquil space, trainers' whispers were full of liveliness and fun. while some were laughing, others were writing, or drinking coffee or juice. In such an atmosphere ILLAFTrain trainers spent a lovely evening on Wednesday the 14th of May, where Algerian trainers were hosted under the invitation of ILLAFTrain-Lattakia, trainers were: Aisha layzink, Nadia Amel Sharki, The meeting lasted for more than 2 hours, where many topics and issues, concerning the situation of ILLAFTrain whether in Syria or in Algeria, were raised. Each one of the trainers presented suggestions and points of views. The meeting was over after the trainees' agreement 0n progression and not to look back ever, and to get use of others' experiences and assuring the importance of cooperation between Syrian and Algerian trainers.
Trainer Ahmad Alkhateeb concluded the meeting with a set of useful advice where the most important ones were focusing on the objectives and patience.
The evening was over among tears and smiles, when Algerian trainers sent Syrian trainers' greetings to Algeria. With a hope of constant visits and they wished ILLAFTrain more success and distinction.