Syria - Slunfeh: ILLAFTrain lightens training amongst the snowy landscapes ILLAFTrain Certified Trainer Course, Slunfeh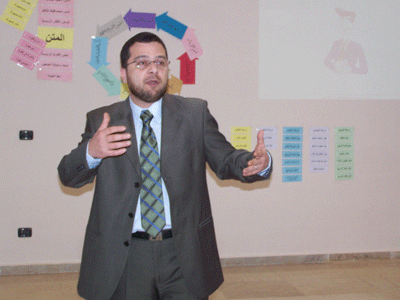 The main trainer is Arch. Mohammad Pedra
ICT course took place in Slunfeh resort-Syria. It's considered one of the most beautiful resorts in Syria. It's full of oak and cedar forests. The resort is 1000m above sea level.
The course took place in Park Plaza hotel and it's going to last till 6/3/2008. Mohammad Pedra is training the course while Mamaun ALkadri and Ahmad Alkhateeb are the assistant trainers.
This course is different because it happened in this charming area where it's full of snow; as if it's a training camp in the mid of the snow that begins at 8 o'clock and ends at 6 o'clock.
On Thursday 28/2/2008, after an exhausted week of training, the trainees went out with the trainer Mohammad for a trip to the snow, spending a lovely time enjoying it and playing with, and taking some memorial photos.
The course began on Saturday 23/2/2008.
Photos of the course in photo gallery:
Photos from ICT Course - Sulenfeh/ Syria - from 23/ 2 to 6/ 3/ 2008