Syria - Slunfeh: the completion of ICT course, 6 March, 2008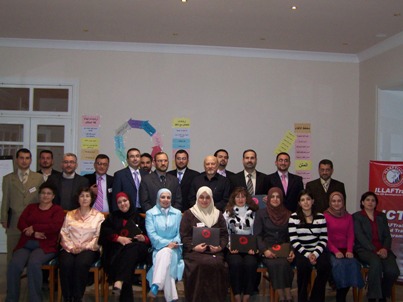 A collective photo of the course
The ICT course was successfully completed in Slunfeh-Lattakia-Syria between 23/2-6/3/2008
It was a great completion filled with joy and tears at the same time. the joy of the stunning outcomes that the trainers achieved through this course with its positive effects on their lives, how to deal with others and their way of comprehending, in addition to the dramatic change they achieved.
While their sadness was for the completion of the course, for they spent lovely times filled with friendliness, the joy of training and the tours they went through.
The trainer Muhammad Pedra commented on the course: "for the first time we applied the accelerated learning in the ICT course which has great outcomes, we are going to generalize this type of learning to other upcoming courses and to all ILLAFTrain courses.
The trainees' comments on the course: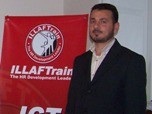 The trainee Mamaun ALkadri:
Everyone should believe in change and be beneficial. This course was beneficial in terms of development and changing, we noticed so in the trainees of the ICT course, Slunfeh.
Thanks to all who helped in this course, where we all cooperated with each other to move forward, moving the obstacles that come in the way, otherwise, we'll be the obstacles in other's way.
Mr. Ma'amoon Alkadry was an assistant trainer in ICT course and as a trainee in ICT course which took place along Certified Trainer course.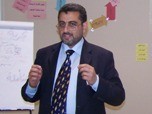 The trainee Yosef Idrees:
It was a great course, I wished if it lasted longer. It was invaluable.
The trainee Lujain Aljazaerly:
It was a great course. I loved all ILLAFTrain courses. I've got so much use of it, and I'll go on with it.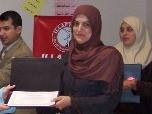 The trainee Kadeja AL mourabet:
I've got use of this course, I liked its content. It was what I was looking for and I hope to achieve the aim of this course.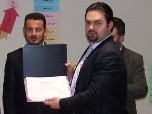 The trainee Ali hlehel:
It was one of the most successful courses I've ever attended, where going after it did worth it. Thanks to all who helped in it.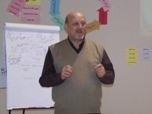 The trainee Ziad ALjazaerly:
I was far away from training and teaching others, but now I'm interested for knowing more. Thanks to ILLAFTrain
Mr. Ziad is a new member of training.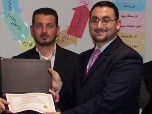 The trainee Muhannad Al-Obaidy:
It was a distinctive course with its attendance and trainers, and with its unique style of training where it focused on the practical application and that made me love training. Thanks to ILLAFTrain and to all who made this course to be so distinctive.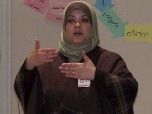 The trainee Eeman Hairan:
Thanks to ILLAFTrain administration and to all the responsible for the course. We've got use and skills that we were missing in our lives. Our performance in our social and professional life will be a kind of our thanking.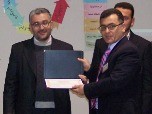 The trainee Ahmad Esfinjeh:
I'll do it all over again. It evoked all our emotions. It enlightened all the dark aspects deep with us.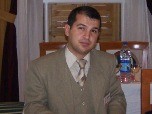 The trainee Mohammad Mofaz:
wrote a poem expressing his sadness for the completion of the course…
Related News:
Syria - Slunfeh: The tourist activities within ICT course on Friday 29/2/2008
Syria - Slunfeh: the tourist program within ICT course; A trip to Salah Aldin citadel
Syria - Slunfeh: ILLAFTrain lightens training amongst the snowy landscapes ILLAFTrain Certified Trainer Course, Slunfeh
Photos from ICT Course - Sulenfeh/ Syria - from 23/ 2 to 6/ 3/ 2008