United Arab Emirates - Alain: Dubai Accelerated Learning Center starts its first Course in the UAE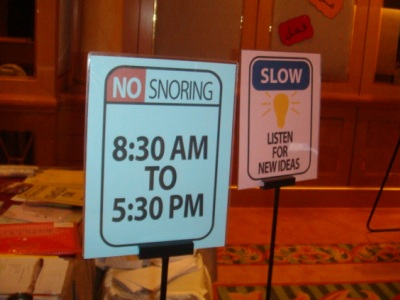 At 8 Am on August the 20th of 2008, The Accelerated Learning workshop started in Alain in the (LOU LOU) Lobby of ROTANA Hotel. This Course was planned in co-operation with ILLAFTrain Abo Dhabi. It was presented by the Arch Mohammed Pedra. The course included trainer from multiple nationalities like the UAE, Qatar, and Sudan.

The course opened under the Title "Effective Learning". The goal of the workshop was to consider the last day the determining factor that will measure the success of the workshop.
Each Trainee chose his/her own training subject, then they gradually applied the methods and techniques of Accelerated learning.
On the final day, the ideas and the presentations of the trainers were an indication of the benefits the earned from this workshop.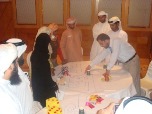 Workshop Forum: As a method, and in an effort to make things clear and transparent and to tie all lose ends for the Trainers, a conference was held at the end of the workshop during which a chart for Learning and Training was laid out to demonstrate the obstacles that face Effective Learning and the methods to overcome it. The discussion was moderated by the Trainer of the Course.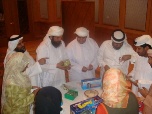 Workshop Marketplace: This workshop was filled with games and contests. The Trainers were divided into groups to compete.
They competed for "Fake Money" as a reward to winners. Since they had to spend the Money they earned, a market place was put together for the winner to buy what they liked using the money they earned.
Trainers Commentaries:
IBTIHAL EL ZAKI - UAE: Accelerated learning is actually" The Essence of Learning" I invite you to learn like children.
SHAFE EL NIADY - UAE: I think that AL is like a vessel that contains information. The Trainer uses it to deliver information to trainees. The important part is how to communicate this information. The best method of deliver in my opinion is via Accelerated learning.
HABIB HASSAN EL SAYED - QATAR: It is a real revolution in learning and training. It needs full support and we need to start believing in its validity. We really need to reconsider our traditional approach to teaching and learning and to revitalize our methods to regain our position as leaders of the world.