USA-Chicago: for the first time, ILLAFTrain trainers are in USA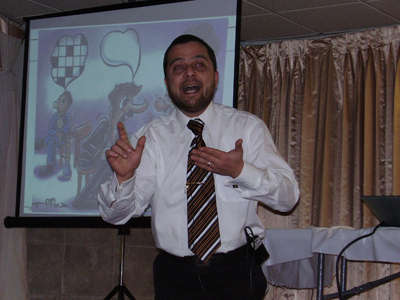 Trainer Mohammad Pedra during a seminar
Two seminars have been set for analyzing and promoting marketing as well as for establishing ILLAFTrain first franchise in USA. The first seminar entitled "a call for thinking at the Islamic center in Merrillville in Indiana State at 5:30 on Friday 4/1/2008.
The second one entitled "stand up for the self'at "Harlem" Islamic center in Chicago city in Illinois State at 6:30 on Saturday 5/1/2008. The audience was more than 150 persons.
They were presented by the trainer Mohammad Pedra and it was about the following three axes:
Many perceptions we have are untrue.

If we keep thinking in such a way, we'll still get the same negative results.

God doesn't change people unless they start changing themselves.
IILAFTrain will present its second course in USA next Monday 7/1/2008 at Avicenna academy in Crown Point in Indiana state.
Mr. Mohammad Pedra has said: "the Islamic community here is huge and they seem to be attracted to such training, I've received many invitations to present courses and seminars. And there is a study for setting ILLAFTrain-Chicago which is to be launched next month".
A side of the attendance who were more than 150 persons