USA, Crown Point, Indiana: The conclusion of the fourth course by ILLAFTrain-Chicago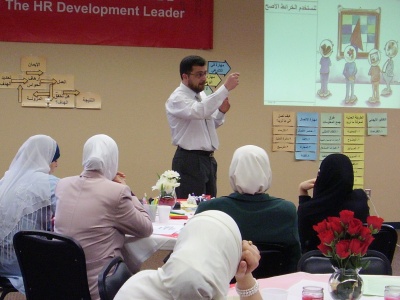 Trainer Mohammad Pedra during the course
The fourth course for ILLAFTrain-Chicago ended Sunday, April 28th, 2008. This was the third course in NLP (Neuro - linguistic- programming) to be conducted in the US by ILLAFTrain. The course was attended by an elite group of the Arab community in the area. The Trainer of the course, Mr. Mohammad Pedra, excelled in his presentation and, extensively, used the techniques of accelerated learning.
Aside from the numerous illustrative posters, he also used:
Sound techniques.

Competition card games: The winners will be rewarded sums of money that can be used at the "Open Bazaar" at the end of the course.

Course Thermometer: It measures the progress of trainees in achieving the goals of the course.

Light and Sound Alarm Noise Detector: detects load noise by trainees.
ILLAFTrain will continue to further the tools of accelerated learning and expand its utilization in all future courses.
Dr. Muhannad Alfrhan, general manager of ILLAFTrain-Chicago and CEO, American Institute for HR Development, concluded: (I thank the trainer Mohammad Pedra for this tremendous effort and sincere and beautiful presentation that springs from the heart. I thank the administration and the employees of Avicenna Academy for their cooperation to assure the success of this course and most certainly I want to thank everyone who joined us in these courses because even the most organized courses and the most qualified trainers, will not be able to guarantee a successful course without people like you, who spend their time and effort and keep open minds for learning…)
Commentaries about this course:
Trainee Samah Alkhteeb, Teacher at Avicenna Academy: "The course is excellent; it makes everyone stop with himself for a moment of truth. He can then redo his calculations and organize his goals until it become a tangible reality."
Trainee Sahar Hamad, Teacher at Avicenna Academy: "I advice everyone who wants to study the "NLP", to listen first and avoid making hasty decisions until he reaches the end of the course, then he can start on the path of change."