ILLAFTrain UAE - Abu Dhabi: Conclusion of the Certified Emotional Intelligence Practitioner Course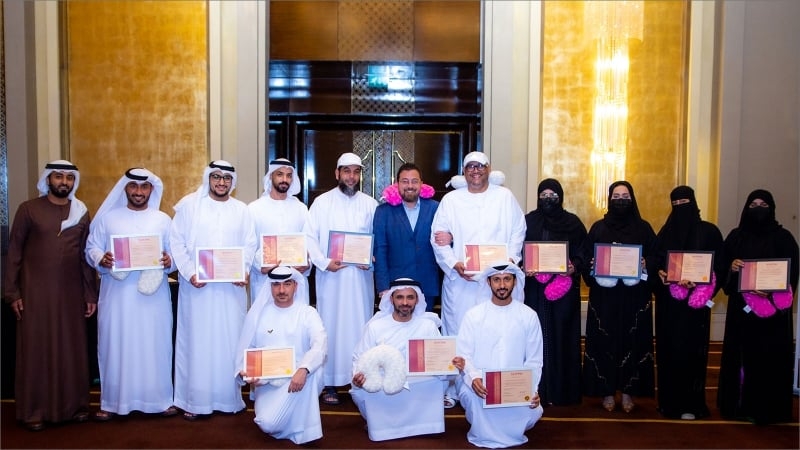 Group photo at the end of the course
Abu Dhabi, United Arab Emirates - 2022-02-17
Abu Dhabi, United Arab Emirates 17/02/2022
The standards of success and development are now very different from what they were in the past due to the increased competition between institutions, businesses, and organizations in the current world of variables and rapid technological development. Since academic credentials and professional experience are no longer the primary determinants of success, a new idea called emotional intelligence has emerged as one of the most crucial requirements for achievement in all spheres of life, whether professional or social
A Certified Emotional Intelligence Practitioner course was offered by ILLAFTrain UAE from January 24 to January 28, 2022. This was done in light of the significance of emotional intelligence and as a continuation of the distinguished training process by offering the best and most significant training courses. Dr. Mohammed Pedra, a consultant trainer, and Mr. Majed Bin Afif, an expert trainer, led the course at the Anantara Eastern Mangroves Abu Dhabi Hotel.
To learn what emotional intelligence is, there were five intense training days. In order to increase the level of emotional intelligence skills among the course participants, Dr. Mohammed and Mr. Majed summarized their unique experiences on emotional intelligence during these days.
The process started with each participant taking the (BCA®) test and receiving a report on their emotional intelligence skills. This report contains the most important recommendations for enhancing communication and interpersonal skills as a means of developing stable and effective skills as well as the capacity to regain control over reactions.
The trainer also went over the four main fields that make up the BrainyCore model of emotional intelligence::
Know yourself: contains four skills.

Be You: contains five skills.

Know others: contains three skills.

Invest in Others: Contains one skill.
Each trainee began the practical application by determining the industry and situations in which they need emotional intelligence skills. The trainees explored emotional intelligence strategies that can be applied in numerous daily life contexts as the event's days went on, and results started to emerge more and more.
With the last days of the course, things became clearer, and the worst-case scenario had a new look and a new reaction, and this was actually applied on the ground through daily practices.
Mohammed Pedra and Mr. Majed Bin Afif gave a speech as a conclusion in which they discussed the value of the trainees investing in the skills they had learned. Additionally, they emphasized in their speech the importance of inspiring the trainees to use these skills in their daily lives so they can benefit the most from them. It was concluded with this enthusiasm in a happy ceremony where certificates were given out and memento photos were taken.
Related galleries