Morocco- Marrakesh: Completing the Seventeenth ILLAFTrain Certified Trainer Course ICT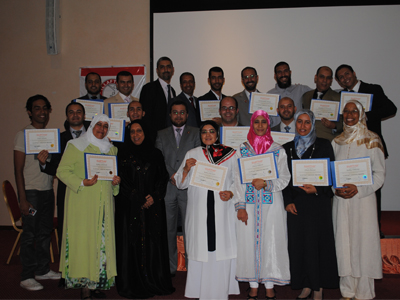 It is well-known that the final tests in the trainers' course cover the trainees' knowledge through a written test (about a hundred true/false and multiple choice questions). The tests also cover the presentations skills that the trainees gained during the course. The tests were conducted by a committee of four ILLAFTrain's certified trainers and following the course's 21 standards.
Final tests photo gallery
The tours were various and the most important ones are the visit to " Alfana Mosque's Square" and "Ind Ali Belfalah" Palace which is a large touristic restaurant. In addition to its many dishes, it serves a dish of Moroccan Folklore shows which roams among the tables while the customers are eating. The daily program is usually finished with an amazing show which contains both singing and performance. "Alfana Mosque's Square" is a public area of entertainment for both locals and tourists in Marrakesh. Therefore, it is the hub for the city of Marrakesh which was and still is the meeting point of the city and many neighboring areas and a destination for visitors from around the world to enjoy the exciting shows of the snake tamers, story tellers, musicians and other traditional shows which accumulate a rich and unique heritage which gave it a unique a UNESCO rank as a human oral heritage in 1997. You can view the tour photo gallery.
The closing ceremony was as charming as Marrakesh. Gifts, awards, and good words were exchanged. The trainers Ibrahim Altalwa, Abdulghani Alazouzi and Abdulaziz Alzeegh gave the closing speeches.
Important thanks: ILLAFTrain would like to thank Dr. Hana Al-laith for all the creative ideas which enriched the course and all the efforts she has exerted to make a success of the course and congratulates her on getting the position of ILLAFTrain certified trainer.
What the trainers had to say
Abdulatif Sabur:
"A course in which I achieved all the goals on a theoretical and practical level. Special Thanks to those who contributed to the success of this course."
M. Alhanafi Ezat:
"ILLAFTrain course is what every trainer is looking for for training and fixing positive values in trainees and this is what other training courses lack."
Seham Alhawat:
"I didn't know who I really am and what my real abilities are except in ILLAFTrain course. It was this course that discovered my deep secrets. It is beyond wonderful and powerful course. It is distinguished for positive attitudes, good training and message at the same time."
Abdulghani Alazouzi Alidrisi Alhousaini:
"It's a unique vocabulary item on glory lines in the human history and the world dictionary are honored to have. The world languages prospered with it. It has become a symbol of change and human training. It is the pioneer ILLAFTrain.
Mohammad Bahsain:
"It's a wonderful course and attending it is a heavenly bless. It's the first step on the road of creativity and uniqueness."
Zuhair Alsharti:
"It planted the seeds of modern training in Morocco. Stay tuned for the fruits and welcome to the orchards of present and future."
Blamin Abdulkarim:
"The trainer's training course was and will always be a valuable experience that words cannot describe. In a nutshell: It is a training course not only for the professional side but also for the human and spiritual side. We learned and improved our skills through a rich material which was put into four heavy booklets but the huge amount of values and behavioral and spiritual skills needed more than 85 books."