The Certified Professional Trainer DIPLOMA (CPT) Course from ILLAFTrain UAE in a Brilliant and Creative Manner as Usual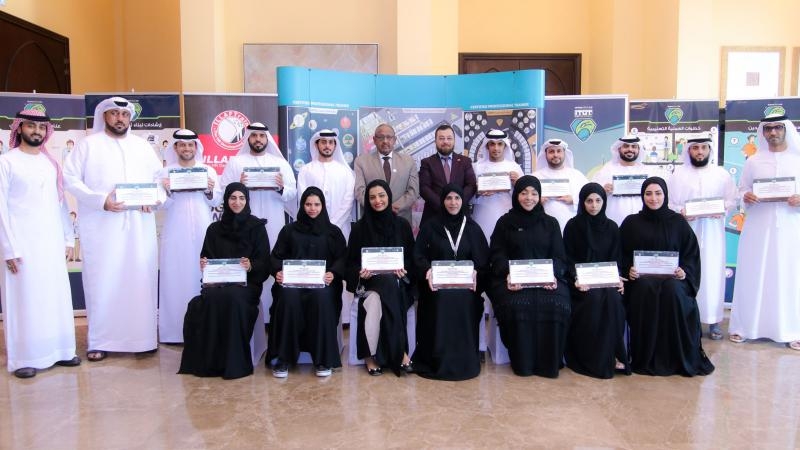 Group photo at the end of the course
Abu Dhabi, United Arab Emirates - 2018-12-01
Participants with a singular focus on making a quantum leap in their personal and professional lives were distinguished by their presence in the course.
Accordingly, from 14/04/2018 to 26/04/2018, ILLAFTrain Abu Dhabi implemented the training course: CPT Certified Professional Trainer DIPLOMA, filling the trainees with vitality and enthusiasm that didn't let up for a single moment.
The Bab Al Qasr Hotel in Abu Dhabi, which is regarded as one of the most cutting-edge, prestigious, and elegant hotels in the emirate due to its location on the Abu Dhabi Corniche and its view of the Emirates Palace, hosted the event.
More than 100 hours of training were held in the hotel's halls, filled with learners who were passionate about learning, eager to learn about themselves while training, and on a never-ending quest for accurate information and skill development. Their passion and enthusiasm added more interaction and fun to the training hall, which raised the slogan "With our relaxation and enjoyment, we discover ourselves, and we make a qualitative leap that we did not expect before, as we were born knowledgeably and skillfully again."
Course Trainers:
" All trainees must achieve the originality of knowledge and skill; it is not a goal for trainers."
In order to present the originality of knowledge combined with the professionalism of skills and the acquisition of deep experience, the training team has worked tirelessly and continuously to ensure that the foundation of their work is harmony and unity.
The daily training was practical because it immerses the trainees in actual scenarios and allows them to learn from their experiences as if they were actually qualified trainers with their trainees, as they do every day in the field of practical, not theoretical, training.
The inspirational team was led by consultant Dr. Mohammed Pedra, who gave an overview of his experiences and abilities to provide the trainees with the knowledge that was both original and in-depth in terms of skill and experience.
With the participation of:
Majed Bin Afif, a certified expert trainer, assisted Dr. Mohammad Pedra in the training and accompanied the trainees throughout their presentations to help them transition from their present situation to their ideal future through professional training.
Faisal Bin Huraiz, a brilliant journalist and certified master trainer, then gave them everything they needed to know about speaking so they could be proud of playing the movements' strings to the voices' melodies in their speeches. He did this by summarizing his experiences in the field of vocal and physical recitation.
All trainees concurred that:
" Words of gratitude fall short of adequately expressing the trainers' commitment to and professionalism in conveying information with high accuracy, their creative and approachable delivery of the material to the trainees, and the clarity of their goals on a daily basis."
Certified Professional Trainer DIPLOMA (CPT) course trainers.
Daily Tours:
" Challenge yourself to be better today than yesterday if you want to compete and be challenged."
The training atmosphere was distinct in terms of the trainees' interaction and their eagerness to receive new knowledge, as each trainee had to present a realistic training presentation as if they were a certified trainer presenting their own course. The trainee's progress and performance development were remarkable, which was evident in their presentations in terms of the seven steps of the educational process, as well as the physical and vocal speaking skills and the style used in the presentations. This completely different progress gives evidence that this group of trainees must be brilliant trainers in the future.
Training exercises and presentations.
Conclusion Day:
" the day that is regarded as the beginning when participants decide to begin investing their knowledge and skill."
It was a celebration that gave the impression that the course had come to an end, but in actuality, it marked the start of a new beginning and the birth of a more brilliant and professional life in the training sky, provided that its foundation is laid with credibility, sincerity, and transparency. This is because the trainees turned what they had learned into the paths and methods they will use to create their next training future. After the trainers finished inspiring and motivating the participants to apply what they had learned, ILLAFTrain Abu Dhabi gave a speech, and then the attendees shared their experiences. As opposed to a 12-day training, this 12-day experience was more like a fun and interesting journey for one family to learn together.
Features of joy and happiness prevailed on this day because it is the beginning of transforming the training into a tangible reality for advancement and reaching the highest ranks that each participant has drawn for themself.
At the conclusion moments, the special guest came which is a distinguished cake that the trainees devoured while they were conveying a message that their devouring of it, while it was in the form of a book, is a promise from them to devour the book information and apply its skills to them. Then everyone received certificates and took souvenir photos with their optimism about a bright training future based on credibility and professionalism.
Finally, for their active contribution to the success of the activities of the training program and for sharing their experiences with the trainees, ILLAFTrain Abu Dhabi extends its sincere thanks and appreciation to the certified senior trainer, Dr. Ahmed Abd Al-Muti Nuri from the Kingdom of Saudi Arabia, as well as the certified senior trainer, Abdul Aziz Al-Ali, and also to the brilliant certified senior trainer, Sumaya Al Shimmari.
Conclusion ceremony and awarding of certificates.
Trainees' Comments and Opinions:
One of the most wonderful courses I have ever taken, packed with information, opportunities for skill development, and enjoyable real-world applications.
Name: Fatima Al Ketbi
Head of Human Resources Planning and Development Department at UAE University
The course is excellent; I greatly benefited from it and it altered my perspective on everything. I am grateful for everything you gave me and am confident that it caused a change in my life.
And I really enjoyed it because it made me feel like a kid again and I was able to channel my craziness in the right way at the right time.
Name: Al-Anood Al-Shirani
Tour guide at the Sheikh Zayed Center for Desert Sciences
Due to my attendance at several media courses, when I first learned about this course eight months ago, I assumed it would not add much to my knowledge. However, in reality, I gained a lot from it and changed many concepts that will aid me in both my practical and social life.
I appreciate it very much.
Name: Saeed Al-Shahrani
Presenter on the Emirati Al Dhafra channel
The course was a turning point in every aspect of my life, and I am grateful that I was able to attend this course because I see it as a solid starting point for me and a powerful inspiration to do even better. Through the course, I learned that there is still much to learn and that it is not the end.
Name: Amal Al-Salmi
Head of the Community Outreach Department at Abu Dhabi Municipality
This course is an integrated scientific approach for the preparation of trainers because it includes real scientific topics that can be relied upon with assurance and steady steps. This is what made it a unique intellectual product of its kind that I did not find in other training courses for the preparation of trainers.
Name: Saleh Hussein Fadaq
Head of the Career Development and Talent Development Department at the Abu Dhabi Judicial Department
The course allowed my talents and creativity to flourish. The course stood out for its wonderful presentation style. I received more from the course than I had anticipated. I discovered myself in more training fields. My perspective and my course have changed.
Name: Badria Al-Junaibi
Head of the Preparation and Examinations Department in the Armed Forces
I've been waiting for a long time to take this course because it drew on many of my strengths and training-related skills. Mr. Majed motivated me, and Dr. Mohammed Pedra served as my inspiration. I consider ILLAFTrain to be a prestigious institution with an honest and straightforward message. I see that I am a member of ILLAFTrain as I depart today from the course, and I wish for all success to it.
Also, my colleagues who attended this course are a valuable addition to me, each of them has an advantage that I benefited from to improve myself and my situation. The preparation and design of this course achieve its goals.
Thank you, ILLAFTrain, from the heart.
Name: Hussein Ahmed Al-Shatry
Head of the customer service team at the Department of Education and Knowledge