ILLAFTrain Doha: Conclusion of the Certified Professional Trainer Diploma Course Offered for KAHRAMAA in Qatar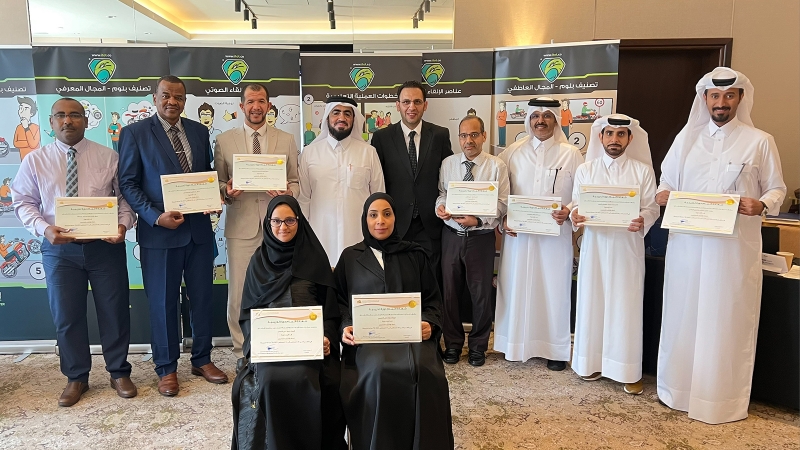 Group photo at the end of the course
Doha, Qatar - 2023-09-20
Given the quick global growth, it is essential for institutions and organizations to raise staff competencies in order to keep up with the latest innovations.
As part of the remarkable initiative by the Qatar General Electricity and Water Corporation (KAHRAMAA), coordinated by the Continuous Education Center at Qatar University, Expert Trainer Hussain Habib AlSayed led the Certified Professional Trainer (CPT) course for 12 trainees with distinct scientific and technical backgrounds. Mr. Hussain worked with Master Trainer Adnan Alqady to provide them with the resources they needed to share their knowledge and expertise with their colleagues and advance the concept of sustainability.
Mr. Jamal Al-Din, a training management consultant, attended the course's opening on Sunday, June 20, and he gave a motivational speech to get the course rolling. The trainees engaged with the outset of the course in lively interaction, eager to take part.
Through theoretical educational procedures, the course covered a number of goals and themes, including:
Training of Trainers (TOT1): Trainees received the necessary training and skills to provide training programs professionally. This involved building confidence and rapport between the trainer and trainees, as well as motivating them. In order to guarantee that learners are fully engaged in the learning process, it also featured instructional techniques with a track record of success.
Professional Presentation Skills (TOS1): This theme focused on developing the essential presentation skills that prepare individuals to be organized and effective speakers through enhancing vocal and physical skills.
Learning Theories: Understanding learning theories, writing training objectives, accelerated learning techniques, and the seven steps of the learning process.
The Fundamentals of Assembling the Training Package: This theme is crucial for new trainers in order to prepare specialized training packages in their particular domains of expertise and guarantee proficient course delivery.
Furthermore, the course covered theories related to training design and various practical applications.
The course featured a series of practical activities known as training rounds. The training hall served as the setting for the trainees' daily presentations, where they demonstrated the special interaction and passion of their fellow trainees This was achieved by applying the seven steps of learning and mastering physical and vocal presentation skills. Progress, development, and mastery were clearly evident in each trainee's daily presentations. Their improvement and development from the previous day seemed to captivate and impress everyone The group has proven to be a solid foundation for the launch of the elite institution's internal training project that was chosen for future trainers in KAHRAMAA.
At the end of the course, Mr. Jamal Al-Din Abdullah shared a speech of appreciation and inspiration with the attendees, thanking them for their participation and engagement and wishing them continued success and greatness. In order to celebrate this joint effort and fruitful collaboration among many government organizations toward Qatar's Vision 2030, certificates for course completion were awarded at the conclusion of the course
Related galleries